The style and taste of a home can be changed by light.
Light sources with the same parameters, depending on where they are installed, how they are installed, and even the material of lampshades, will produce different lighting effects, thereby creating a completely different atmosphere. Therefore, it's important to consider the functional and aesthetic needs of each room when choosing the proper lighting product.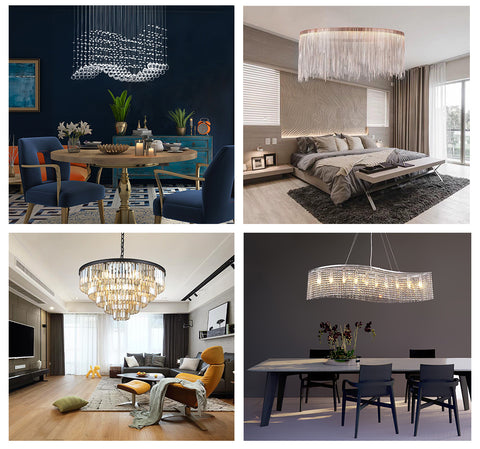 Now, let's take a closer look at how to build a more purpose-driven lighting environment for each room.
Living Room
The living room is a multi-functional area where people tend to gather together to engage in a series of activities, including talking, reading, watching TV, etc.. Therefore, the lighting of this space requires a more diversified approach. In general, a ceiling light or pendant light located in the middle of the ceiling is ideal for providing ambient lighting. An 80cm diameter circular ceiling light or a 110*70cm side length rectangular ceiling light is suitable for a 20-square-meter living room.
If you use a pendant light as the main light, it can be placed a little low directly above the coffee table, becoming the focal point of the sofa area.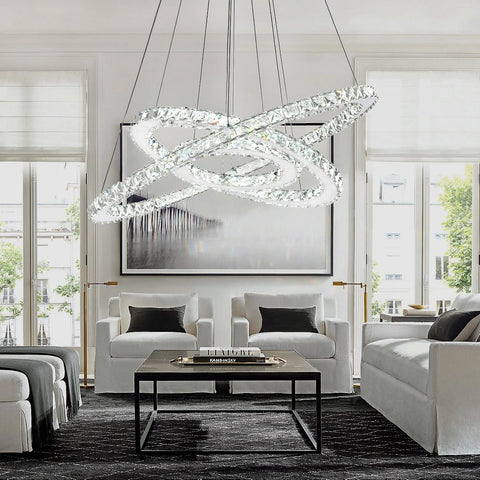 Another way to provide ambient lighting in the living room is to use recessed or track lighting. Lights that bounce off the ceiling are diffused to become soft and create a sense of brightness in the room. Also, the color of the light source must be single, not colorful.
Bedroom
A bedroom is a place where you fall asleep and unwind. Due to the relaxing nature, it calls for soft ambient lighting.
Most of the time we lay flat in bed. Therefore, it is better to install well-diffused lighting that creates a soft ambiance rather than ceiling-mounted fixtures that shine blindingly. In the choice of lampshades, use shades made of paper, wood, bamboo, and other natural materials to create a comfortable and natural space.
In addition to ambient lighting, bedside reading light and closet light are also two of the major consideration in the bedroom lighting set up. For bedside reading, it is recommended to use a table lamp or wall lamp with rocking arms to provide adjustable tasking lighting. The light can be directed on the reading material or turned to other directions as needed. Each side light should operate on its own switch to avoid disturbing your partner's sleep. For closet lighting, use infrared induction LED light to save energy. The light is on when the wardrobe door is open and off when the wardrobe door is closed.
For families who need to take care of their babies at night, it is recommended to install a human body induction night light near the ground. It turns on the light automatically when perceiving motion and automatically extinguishes after several tens of seconds. It is safe, energy-saving, and environmentally friendly.

Dining Room
The dining room is the place to showcase your design style through your lighting choices.
When choosing to light for your dining room, the primary focus is the table. Fixtures placed directly above the table can provide both ambient and task lighting for this room. It is generally recommended to hang the pendant light low enough to allow the light to converge and form a light and dark contrast at the table, creating a warm dining atmosphere, some dining room lighting ideas for your reference.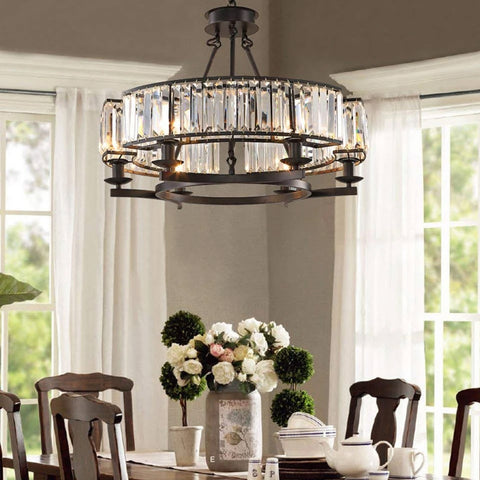 The lowest point of the pendant light should be at least 30 inches higher than the table, and the diameter should be between 1/2 and 2/3 of the width of the table to avoid touching the head. Feel free to check out our detailed chandelier size guide Here. Use warm light with a color temperature of about 3000K to make the food looks more delicious.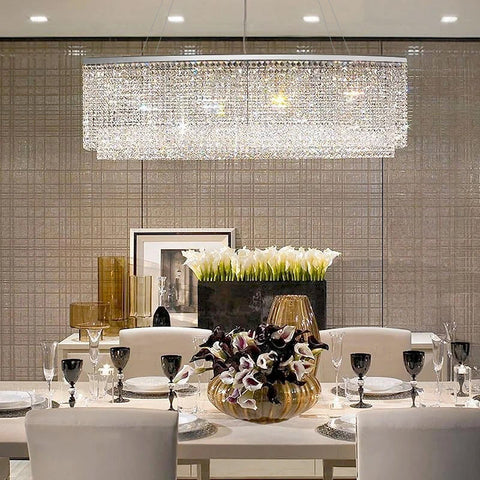 If you want to use lampshades, it is recommended to use lampshades made of translucent materials, such as acrylic, paper, etc., which can spotlights downwards and transmit light properly, and have a certain auxiliary illumination effect to the room. If use lampshades made of opaque material like metal, it is better to have other lights as additional lighting. Otherwise, lights emitted from pendants will all gather downwards, causing the central area to be extremely bright and all-round to be dark, which is not comfortable visually and psychologically.
Similar to the closet light, the dining cabinet light can also be fitted with an infrared sensor for easy access to the tableware. It can also reduce the heavy feeling of the cabinet and let it appear light-some.
Kitchen
With a focus on the functions of food preparation and cleanup, the kitchen is one of the most practical areas in your home, requiring careful consideration of the balance of task and ambient lighting.
A lighting plan for an ordinary kitchen calls for ceiling-mounted central fixtures to provide ambient light and under-cabinet fixtures to provide task lighting for the counters and the sink. There are many benefits for installing under-cabinet fixtures: illuminate the counter-top work surfaces when cooking, dishes look brightly colored under the light with color temperature 3000-4500k, and you can set the lights to be turned on automatically when getting tap water at night.
Bathroom
Lighting design for an ordinary bathroom generally features a central ceiling-mounted fixture. But besides sanitary purposes, it also emphasizes personal grooming that requires viewing oneself in a mirror, so a properly lit mirror is also critical for bathroom lighting.
Lights should be arranged on both sides of the mirror to gives off a subtle but sufficient light. Use a natural light source to provide the most accurate reflection of your face, making it easier to shave and apply makeup.
The above are general guidelines rather than hard-and-fast rules. As mentioned earlier, each room has different lighting requirements, from ambient lighting to task lighting. So, the next time you move into a new home or decide to update your current house, don't forget to consider that lighting functions need to correspond to the setting and application of a particular room. With a wide range of choices of lights, choosing the most appropriate lighting for a room has become a real challenge. These guidelines can serve as a reference to help you find the best lighting for each room.