How to Pick the Perfect Chandelier Ceiling Fan for Your Living Room
Crafting a beautiful home that fits all your needs is a constant work in progress. There are always ways you can improve it as well as change it to better fit your family's life. Revamping your living room lighting is a great way to update your living space. 
Then you're dealing with the age-old question, though: should you go for a chandelier or a ceiling fan? What if you want the comfort of a fan with the elegance of a chandelier?
A chandelier ceiling fan is the best of both worlds. Of course, the challenge is finding the right one for your space. Use these tips to identify the perfect living room chandelier ceiling fan for your home.
How to Find the Right Chandelier Ceiling Fan for Your Space
Before you jump into a full-fledged shopping session, you need to find out the limitations of your living room. Here's how to figure out what you need:
1. Determine the Size of Your Fixture
A chandelier ceiling fan that's too big or too small will look awkward, and that's just the start. Instead of producing that nice airflow you want, it could create a wind tunnel or be too small to make a difference.
The thing you need to do before shopping for chandelier fans is to measure your space. Calculate your living room's square footage by multiplying the width times the height. If your room has an irregular shape, a square footage calculation guide can help.
Based on your room's square footage, you can determine what blade span you need. The blade span is the full width of the fan and its blades. Here's a handy guide to help you determine how large of a fan you need based on your room size:
For rooms less than 75 square feet, get a fan with a blade span of 36 inches or less.
For rooms with 76-144 square feet, aim for a fan with a blade span between 36 inches and 44 inches.
For rooms with 144-225 square feet, a blade span between 44 inches and 52 inches will be ideal.
For rooms with 225-400 square feet, go for a larger fan between 50 and 72 inches.

Few rooms are over 400 square feet, but if yours is, a 72-inch fan may still work well. If the room is far more than 400 square feet, you should consider multiple fans.

With all this in mind, square footage doesn't tell the full story. You also need to make sure you leave a minimum of 18 inches from the tip of each blade to any wall.
For example, let's say your living room is 15 feet long and 10 feet wide. Your square footage is 150 square feet, which means you want a chandelier ceiling fan that's between 44 and 52 inches in diameter.

Here's another scenario: let's say the room is 7 feet wide by 22 feet long. The square footage is similar, at 154 inches. However, you need to make sure the fan's blades are more than 18 inches from any wall.

In this case, you'll subtract 18 inches per side (36 inches total) from the shortest distance of 7 feet. This shows that your maximum blade span should be 48 inches.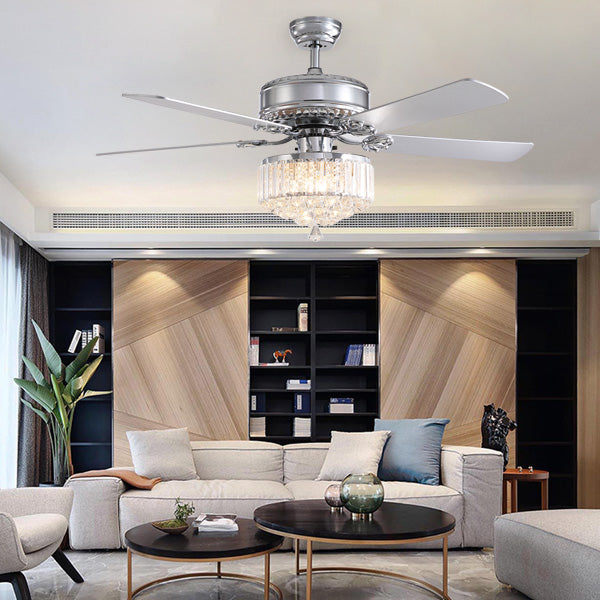 2. Choose Your Mounting Options
On top of the room's length and width, you need to account for its height as well. In general, you want the bottom of the chandelier to be at least seven feet from the floor. For taller ceilings, though, aim for closer to ten feet.

If you have a ceiling that's eight or nine feet tall, a chandelier might not be the best choice. You should aim for a low-profile fan that mounts up against the ceiling. These are often called "huggers."

For taller ceilings, you'll have more space both above and below the chandelier. Depending on your ceiling height, the mounting options you need will vary. For instance, if you want the fan to be a few inches from the ceiling, look for a "close-to-ceiling" mounted fan.

For ceilings taller than ten feet, you may need a longer down rod: the extended rod that hangs the chandelier farther from the ceiling. While some chandelier fans come with this option, you may need to buy an additional mounting kit for others.

You might also need to buy an additional mounting kit if you want to hang your chandelier fan on a sloped ceiling. For a sloped ceiling, make sure you're measuring the correct ceiling height based on where in the slope you want the fan to be.
3. Determine the CFM Rating You Need
Another factor in your chandelier ceiling fan selection is the amount of airflow you want. Each fan should have a CFM rating. CFM stands for cubic feet per minute: the amount of air the fan can move.

Your target CFM rating will depend on the room's square footage. Here's a quick guide:

For rooms, less than 144 square feet, aim for 1,000-3,000 CFM.
If the room is between 144 and 225 square feet, look for fans with 1,500 to 5,000 CFM.
For living rooms between 225 and 400 square feet, your target range is 2,500-6,000 CFM. If you have a living room over 400 square feet, look for fans with 5,000-13,000 CFM.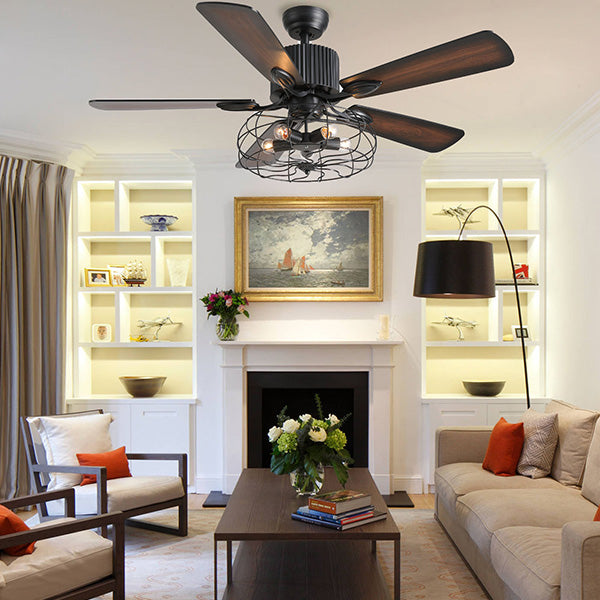 4. Choose Your Lighting
Your chandelier ceiling fan isn't just a source of airflow and style. It's a source of light as well. Before you start shopping, take a close look at how much light you already have in the room. Think about the other light sources, from windows to lamps.
You should also think about how you like to use the room. If you use it for activities that require a lot of detail, you might want brighter lighting. If you watch TV often, those bright lights could create too much glare.
If you're looking for a happy medium, consider installing a dimmer for your chandelier.
Finding Your Perfect Chandelier Ceiling Fan
Depending on how ornate of a style you choose, your chandelier ceiling fan could be the focal point of your living room. Even if it isn't, it's an essential part of your room's lighting, style, and airflow. The tips above can help you find the perfect fit.
For more hands-on guidance about your fixtures, contact our high-end lighting experts.