Adding a chandelier to your home can add to the beauty of your interior design. There are many different styles of chandeliers to choose from, so it's important to be familiar with each kind. Here is your ultimate guide to the different types of chandeliers you can choose from.
Chandeliers. They are the symbol of modern elegance, hanging from every ballroom and dining hall we see. These days, it seems if you want to go for a sophisticated look, and of course, have a high enough ceiling, it seems like a chandelier is a way to go.
Unfortunately, though, when it comes to chandeliers, one size doesn't fit all. There are many different types of chandeliers, and each one can complement a different range of styles. It's best to shop around before making a decision.
What are the different types of chandeliers, and what makes each one unique? All of that will be examined in more detail below.
Candle Chandeliers
The granddaddy of it all, a candle chandelier takes the decoration back to its roots. These types of chandeliers often have at least five extensions, each with its own candle-like light at the end.
Ideally, this is suited for those favoring a more rustic style. The good news is that these chandeliers don't tend to be as large as some other models, so they don't necessarily need as much space.
These chandeliers might fit best in a dining room setting. This is especially true if you're looking for a more simplistic, yet elegant look.
Unfortunately for those in search of true authenticity, they don't make them with real candles anymore. Instead, they use lights in the shape of candles, which gives the signature look without any of the risk or mess of actual candles.
One style offers a slight change of pace by placing lampshades on the candles, giving a more modern look to the signature piece.
Antler Chandeliers
For those particularly fond of the outdoors, antler chandeliers offer a very rustic touch that can turn your home into a nature lover's daydream. Fortunately, the antlers aren't real, so you can get this feel without hurting any wildlife.
They're not big on space, either, so you don't need a mansion to make them work. Keep in mind, while this works for a more down-to-earth feel, there probably aren't a whole lot of other styles that go well with antlers.
In terms of rooms, this one probably shouldn't be put in a kitchen or dining room. The sight of antlers might make people lose their appetites. However, if your house has more of a country style, this will work great in the living room.
Also, if you're fortunate enough to have a game room, complete with pool or billiards, this will work great. If you're an avid hunter, this is also a great addition to compliment your trophies.
Crystal Chandeliers
A very broad style of chandelier, crystal chandeliers were named after the materials they were made from. A crystal chandelier can take many different forms. These are the types of chandeliers to buy if you're going for a look of pure elegance.
These go well in dining rooms and living rooms, or big, spiraling stairways if you happen to have one. Bedrooms aren't a preferable space, as they'd come as a bit gaudy in a bedroom setting.
One of the more popular designs for crystal chandeliers is known as a raindrop chandelier. This style is pretty much what it sounds like, a chandelier with the crystals arranged to look like falling rain.
Another intricate, not to mention breathtaking, design is known as a staircase chandelier. Staircase chandeliers have their crystals arranged so that they extend downward in a spiral, resembling a winding stairway.
Please note that both raindrop and staircase design chandeliers take up a lot of vertical space, so you might want to avoid them if you don't have high ceilings.
There is also a variety of miniature chandelier that should fit even if you don't have space for an average-sized chandelier.
Glass Chandeliers
Another chandelier type named for its material, glass chandeliers are favored largely for their diversity. They are made in a wide range of designs, so you should have no problem finding one to fit your style.
Also, given the variety of forms glass chandeliers can take, you should be able to find one that fits the space easily. Plus, this variety means there aren't a whole lot of rooms that a glass chandelier wouldn't fit into, provided you can find one that fits the mood of the room.
Modern Chandeliers
For those going for an avant-garde look, modern style chandeliers give off more of a futuristic vibe. Theirs is a style of crisp edges and geometric shapes, perfectly complimenting the world of the digital age.
That's not to say that you can't go with a more abstract or original design, but such a design will probably be done in a very geometric way. Modern also isn't known for its intricacy, so if you can't make your idea work without a certain amount of details, you might want to give this one a pass.
These aren't noted for their size, so they should fit well in most spaces.
Ideally, these should be used in the living room or entrance way. Their style leaves an impression, but can look a bit off in other settings, like kitchens or bedrooms.
Drum Chandeliers
A form of shaded chandelier, drum chandeliers were named for their peculiar shape. Though it doesn't necessarily apply to every piece in this category, many have a single, round shade over all the lights that somewhat resembles a drum.
The shades can help to give off a romantic glow, so if you're looking for something to fit your love nest, go with a drum chandelier.
These can vary in size, so it's best to look at a few models before deciding which would fit best in your home.
Transitional Chandeliers
A mixture of old-school and new-school, transitional chandeliers combine all of the futuristic crispness of a modern chandelier with all the rustic elegance of an older model.
One definite upside to this unique type of chandelier is that it should fit in quite nicely with either style, and perhaps a few others as well.
These work well in dining rooms and entryways, though not necessarily in bedrooms.
Bowl Chandeliers
Among the most simplistic of designs, the bowl chandelier is a handing light resembling a bowl. This shape allows for an interesting light effect, with much of the light being directed at the ceiling, or leaking out from holes in the design, and the bowl itself emitting a tasteful glow.
This style can go with several different moods, though it may be best suited for those who prefer a more fashionably understated look. This may also be a way to go for those who don't tolerate excessive light well.
Bowl chandeliers come in a lot of different sizes, mostly based on how low the bowl hangs on some models. Most, however, don't seem to take up a whole lot of space.
Due to its low glow, this would work well in bedrooms or kitchens.
Beaded Chandeliers
These clever models of chandeliers can give your home a more exotic look. They can also be quite a conversation piece, because they are made almost entirely of beads.
The beads themselves can come in a few different forms, with some being made from glass, others from wood, and some forego the beads entirely in favor of shells.
Seeing as it'd take a lot of work to make a large bead chandelier, most are probably reasonably sized and will fit in most rooms. Just to reiterate, this is a very hit-or-miss kind of design, so think and maybe ask for opinions before investing in anything.
In terms of rooms, this could work in bedrooms, if you're going for a new-age or exotic design. They can also work in kitchens or entryways. Basically, it can go anywhere that it matches the style.
Caged Chandeliers
In what is a huge testament to modern architecture, caged chandeliers are intricate designs in which the light itself is in the center of an ornate cage. Some of these designs favor a more literal approach to the concept of 'cage,' while others take the abstract approach, creating a round cage out of intersecting circular bars.
Either way, these types of chandeliers are often visually stunning and should attract a lot of attention. Caged chandeliers tend to be of a fairly average size, and should fit without too much trouble.
Because of its size and stunning design, a caged chandelier often makes a great entry piece, hanging in an open space above the door to wow guests. It can also work in kitchens or dining rooms, and living rooms but doesn't appear to be much of a bedroom piece.
In terms of mood, I would stay away from rustic. It could go well with modern, retro, or even a more Victorian look, if you're okay with having a slightly steampunk element.
That being said, fit the cage to the style. If you have a more Victorian look to your room, you should go into a more classic-looking cage.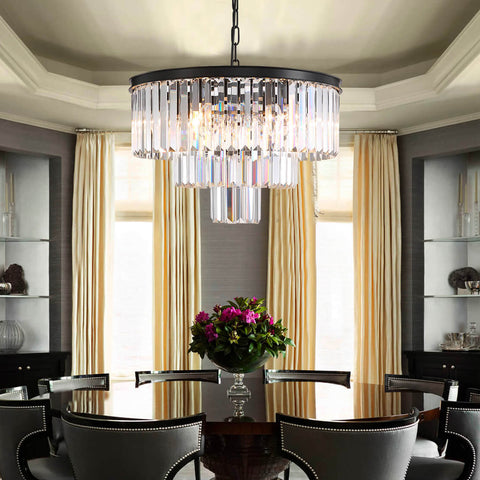 Tiered Chandeliers
If you're going for really ornate designs, you should probably look into tiered chandeliers. Tiered chandeliers have been done in a whole range of styles, although it all boils down to one thing--multiple layers and extra arms.
The concept of layering tends to make tiered chandeliers taller than other varieties, although there are designs out there that are even taller, raindrop and staircase chandeliers being two of them.
Basically, don't go with a tiered chandelier unless you have a lot of space. Otherwise, try to put the tiered part out of your mind when designing. If a traditional chandelier wouldn't work, a tiered traditional won't either. The same goes for pretty much every style that offers tiered varieties.
If you can fit them, though, they make a great piece for dining rooms, entryways, and living rooms.
Modest to Modern and All Other Types of Chandeliers
Regardless of what your style is, there's a chandelier out there that fits it perfectly. Your journey with chandeliers is really only getting started, though.
Now that you know more about the types of chandeliers, from glass to crystal, to traditional to modern. You are now left with the task of finding a good place that sells chandeliers.
Don't worry, because we've got you covered. We are a burgeoning Chinese-American company with access to one of the largest lighting distribution centers in the world. We also cut out the middleman and sell directly to you, which goes a long way in saving you money.
We offer a wide selection of chandeliers and even ceiling fans. If you have any questions, comments or concerns, don't hesitate to contact us.